I was ecstatic to find out that Baby Driver was finally coming to Indonesia! I'd been wanting to see this film ever since I saw the trailer, like, back in March? It came out in America around June, and I had to wait more than two months to finally see it. Thankfully, the wait was worth it because I really enjoyed watching it!
|Review contains SPOILERS!|
Baby Driver was directed by Edgar Wright and stars (I'd like to actually call this a -tiny- ensemble cast) Ansel Elgort, Lily James, Kevin Spacey, Jamie Foxx, Eiza Gonzalez, and Jon Hamm. It follows the story of Baby who is excellent in driving and does car maneuvers insanely good. The downside is, he only does that as a debt repayment to Doc (played by Kevin Spacey), a director of numerous bank robberies. Baby can't get away, not even after the debt has been fully repaid. And then he meets Debora.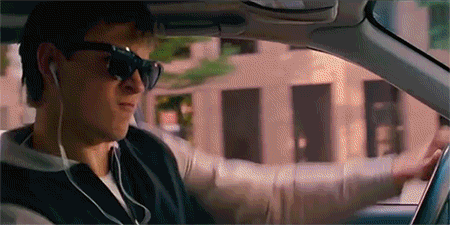 That last sentence may make you think that this is just another action film with a bad romance subplot. That's what I feared. But it turned out that Baby Driver is more than just a car-chase-and-save-the-girl movie. As always, I list down what I loved and didn't love about this film below:
Why I think Baby Driver is one of the best films of the year:
1. Baby is not your regular protagonist in a heist movie. He lost his parents when he was a kid to a car accident, in which he was involved too. He survived and got tinnitus instead. He's no different than any other guys (who stay away from bank robberies, particularly); he just loves listening to music to drive out that ringing sound in his ears. And that's what makes this film special. How often do we see a protagonist in an action film, whose physical condition is highlighted like Baby?
2. I liked the vintage vibes in the diner, old iPods, old mobile phones, songs, and the use of vinyls. Ansel Elgort talked about it somewhere; he mentioned that Baby and Debora never talked over or even used their mobile phones while they're together. I find it fascinating when films successfully combine the old and modern elements together.
3. Baby's foster father talked with ASL! The actor is, in fact, deaf and in return, Ansel Elgort must learn ASL as well for the film. I don't know the reason behind it, but the fact that they featured a disabled actor who didn't appear in passing felt important and special.
4. It's a musically driven heist film! It's a rare thing, right? I am fond of films that heavily feature music like Baby Driver – good quality music! And the best thing is, the movements of the actors, i.e when they were firing guns, were timed to the beats of the song (that's actually in Baby's ears). It was a cool move. They actually hired a choreographer for this film!
5. I loved how complex the characters are. Doc wasn't the typical crime boss who is pure evil. Buddy and Darling (played by Jon Hamm and Eiza Gonzalez respectively) treated Baby nicely in the beginning and didn't always agree with Bats' violent actions. Even Baby himself had a complex background.
I thought the climax wasn't impressive, though
I didn't particularly like how Buddy suddenly appear beside Baby all of a sudden, after his car plunged to the ground in the parking building. How did that happen? Did he jump out of his car in time? And the whole playing cat and mouse wasn't as thrilling as the car chases. It felt a little bit anti-climatic to me.
---
Other "honorable" mentions: "Was he slow" was a bop! I liked how they feature the song mixing process in the beginning (Ansel is a DJ, so that must have come naturally!). Lily and Eiza (never heard or knew about her before) were gorgeous! I also liked the very last shot, where Debora was waiting for Baby with a vintage convertible car, and it started from black and white to colors.
---
I really enjoyed Baby Driver and would highly recommend it. It's fun, original, and if you're an old music fan you'll find it entertaining as hell.
Have you seen it?
Rating: 4.5/5
Disclaimer: GIFs are not mine