Girl. GIRL GURL. What a time to be alive as a woman! Wonder Woman was one fantastic superhero film. I was IMPRESSED. Tell you what, this is the movie I'm gonna be talking about all month.
Okay so I've had my second viewing of Wonder Woman taken care of. I really wanted to watch it again as soon as I left the cinema. I feel grateful that I can exist in a universe and time period where I can watch and witness this Wonder Woman on the big screen. Sorry if that sounds exaggerating. Not really.
// BEWARE OF SPOILERS! //
Wonder Woman follows the journey of Diana, a princess of Themiscyra – a fictional kingdom of the Amazons. These Amazonian people are said to be created by Zeus to protect humans from the consequences of war (caused by Ares, the god of war). For her whole life, Diana believes that she was sculpted from clay and brought to life by Zeus. Also, she really takes the Amazonian's duty to stop Ares to heart. When Steve Trevor, a WWI spy, accidentally steps into Themiscyra and reveals what is happening in the outside world, she firmly decides to go with him, find Ares, and stop the war.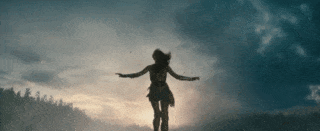 The film was directed by Patty Jenkins, and in the first week of its release, Wonder Woman has made history as the biggest opening of all-time by a female director (domestic). Now that I've seen it, I don't think there is a better director to make this movie. Sure, it has some imperfections (nothing is as perfect as The Dark Knight; this is a DC movie, expect me to make a lot of references to Batman). But it sure stores a lot of improvements when compared to its film companions in the DCEU.
And after seeing it for the second time, I believe that this can be in the top 10 films of 2017. Prepare for the long ride.
Things I love from Wonder Woman:
I'll get this out of the way first: Gal Gadot is one beautiful human being. I don't care about your opinion of her, but you mustn't be able to deny that she is gorgeous. Her eyes?? Her smile?? Seeing her face alone made wanna cry. She's got the face to be an Amazon. Plus, Diana is a goddess and if I had to imagine what a goddess' face looks like, Gal's face would be the perfect choice. She was pregnant shooting the film, for goodness' sake. Maybe pregnancy glow really exists. Or it's just her. And a bit of makeup. Nevertheless, she's crazy beautiful. Chris Pine should count himself lucky. And her husband.
Wonder Woman theme song. I've proclaimed my love for this track in the BvS review.
The bad-ass, hyped, most talked-about, slow-mo-filled huge fighting scene on the beach. This scene gave me so many goosebumps. Women?? On horses? Horseback riding?? Using swords and bow and arrows? While riding the horse? Defeating the German army? Leaping from horses and shields? Antiope firing arrows like Legolas? Women??
The way Diana's face lights up when she spots a baby. That scene makes me want to adore babies more.
Despite her angelic and out-of-this-world facial features, Gal gave a tremendous performance throughout the film. Pain, joy, sadness, anger, and humor, she nailed them all. The scene where she discovered her true powers was riveting. And can you believe that she shot some scenes while being 5-month pregnant?
Steve Trevor is the perfect sidekick to Wonder Woman. Thank you writers, who have made Steve Trevor a man who doesn't undermine Diana's powers and underestimate her worth. Even though he was skeptical at first, he still respected her, treated her as equal. Except perhaps in that scene where they entered a room full of men.
"It's about what you believe. And I believe in love. Only love will truly save the world." – Diana
Still things that I love from Wonder Woman:
And also, Steve's actions demonstrate his personality, his true intentions. He wants to do good, he wants the war to end. Him sacrificing himself was one tough heroic act, but it reached him so simply. I was holding my breath when he was about to fire those gas weapons. He was crying/laughing, for goodness' sake. I really hoped he didn't end up doing it, but he's not Batman, where he had super gadgets and could jump out of the plane so easily.
The speech he did where he's asking Diana to help him stop the war was one of the best moments from Chris Pine. That, and his German accent. What's with these Chrises, honestly?
The perfect amount of humor in this film. And how they were delivered.
The romance! I was like "please don't, don't, don't do it" when the room scene in the little village happened. Please don't make a sexy scene! And thank God they didn't. It was just the perfect amount. Sometimes romance always ruins the story for me.
But did you catch that somewhat-sunset light illuminating half of Diana's face? Or somewhat sunrise, but it's still night?? Maybe the light was from the oil lamp. Whatever. It looked gorgeous; I can see why he wanted to kiss her right then and there, I would do the same.
"I can save today. You can save the world." – Steve (cue some tears)
Have some more:
The theme of love was constant in the film. Diana's motive has always been about love, and it kept emphasized again and again. I feel like yes, all superhero films always display good versus bad and the heroes always want to help those who are helpless. However, in Wonder Woman it was actively delivered. Especially the "No Man's Land" scene. Yes, there's war that way and it was Diana's initial destination. But these people need help now, and that's where Diana is going. I loved it.
"I love you"? Really, Steve? But then again, I would've fallen in love with her too in just 3 days.
The representations are strong in this film. You got an American, a Native American, a French Moroccan, a German, a Spanish, a Scottish, and a British. Not including those women of color in Themiscyra.
The "No Man's Land" scene and all of Diana's fighting scenes
The nods to Superman! I am not a die-hard fan, so I clearly didn't notice them in the first viewing. It was a nice touch! Not to mention, they're both clearly not from this world, so not knowing how to walk out the revolving door was uncanny.
"GOODBYE BROTHER." (btw I keep editing this post because I keep remembering parts that I love but forgot to mention)
"When you see bad things in the world, you can either do nothing or do something." – Steve
Things I didn't like from Wonder Woman:
There are a couple of scenes that looked a bit funny, at least to me. Firstly, the one where Diana was running dodging bullets with her bracelets. From behind, she looked like a kid playing! This is just the way I saw it. Secondly, the one where she was facing Ares in the final moments, with wind blowing in her face. The shot was too close to her face and the wind seemed to be too strong. It looked cheap, sorry!
Ares. Oh, Ares. I was hoping he wouldn't appear. It was more disappointing than the fact that Remus Lupin has reincarnated as the god of war. I suppose it would have given a deeper outcome if Ares wasn't real; humans are just evil. But he was. And the costume looked ugly; he looked like Hades! However, I've read that the appearance of Ares was important as he was an essential character in the comics.
I was hoping that Steve could somehow survive, but without his death Diana wouldn't have realized her true power.  Oh well.
Well, I love Wonder Woman. Maybe I am biased.
It made me proud to be a woman, and I left the cinema feeling empowered. Women finally have a female superhero who represents them! Yes, the film never blatantly speaks that women can do the same, but it doesn't stop me from exuding pride! And you know what, love and compassion do not equal weakness. Just, no.
Wonder Woman has some imperfections, but it is by far the best DCEU film apart from The Dark Knight series. Patty Jenkins should direct all future DCEU films from now on. I cannot wait to see Justice League (out this November) to see Diana again. Let's hope the film is not as disappointing as BvS. Let's hope Diana has more screen time!
Rating: 4/5
Let me know your comments if you have seen the film!
Disclaimer: GIFs are not mine